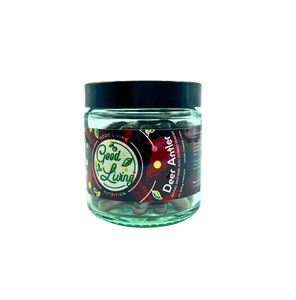 Our Deer Antler is 10:1 full spectrum powder. It is dual extracted in line with ancient Chinese medicine using temperature controlled extraction in order to preserve the naturally occurring valuable components in the antler.
Sika deer are small spotted deer that are native to northeastern Asia. They have been revered for 1000's of years in Asia for the potent quality of their deer antlers. The deer that provide their antlers for our extract powder run in vast fenced areas in the Chang Bai Mountain region of China. The antlers are painlessly removed once two or three spikes emerge and are still covered in velvet, at this point the tips of the antlers are profoundly rich in minerals, amino acids, vitamins and enzymes, growing extremely fast at a rate of approx 2 cm per day.
We do not use any bulking agents, fillers, additives, preservatives or synthetic ingredients and our product is free of GMO's, dairy and gluten, we also use vegan friendly capsules.
Take one or two capsules daily.